2B Mindset: Lose Weight No Matter What
2B Mindset is here!
Do you feel like dieting is a constant war between your desire to get the lean, healthy body you want and eating the food you actually enjoy?
This gal right here knows exactly how that feels. Because she used to be 100 pounds heavier.
Until it finally hit her that what "diet" really means is deprivation. That was when she realized that any eating program based on deprivation would never work for her.
She says, "You see, I've always loved food and I love to eat large portions. What I needed was a diet that would let me eat and feel satisfied, while still helping me lose weight. There was no diet on the market like that — so I decided to create it myself.
I not only invented a solution to solve my own weight problem, so I could lose 100 pounds, I made it my career as a Registered Dietitian Nutritionist — so I could help anyone lose weight happily and learn how to keep it off for good — and still go on living my life and enjoying the foods I love.
My name is Ilana Muhlstein, co-creator of the 2B Mindset, and my mission is to help millions of people just like you win the weight-loss battle — and better yet, end the war forever."
Where are my emotional eaters at?
What about people who hate being told that they CAN'T eat something?
Perhaps you're just overwhelmed by all the different weight loss products and programs out there? Are you someone who just hates working out?
Or maybe you like working out but you cannot seem to get a handle on the nutrition?
If you are someone who:
Loves eating out
Hates to cook
Eats takeout often
Is constantly "on a diet"
Is a weekday warrior
Beats yourself up over over eating
Loves to eat food
Is a late night snacker
Loves to travel but doesn't know how to stay on track
Doesn't want or like to workout
Loves to workout but struggles with food
Needs a simple easy to follow guide for how to literally be emotionally free from food right now then this is for you!!!!
I have experienced so many different types of nutritional theories in the past 3 and a half years and I know that all strategies are NOT for everyone.  My hope is that if you still haven't found a lifestyle that keeps you healthy and in charge, that this could be the ANSWER you have been waiting for!
The 2B Mindset is the newest program from Beachbody that focuses on JUST nutrition so that you can gain an understanding of food as fuel and not food as comfort. This program is a great way to change your habits without overwhelming you with workouts at the same time. Of course you are welcome to workout during the program if you'd like, but we are going to focus on losing weight happily by taking control of your relationship with food.
This program was created by Registered Dietitian Nutritionist Ilana Muhlstein as a practical and simple weight loss solution after years of yo-yo dieting. You'll get recipe ideas and meal prep help, plus tips for conquering emotional eating and more.  She has been working on this program with Beachbody for the past 2 years along with many many years of researching and testing on her own to develop this program!
2B Mindset is NOT a diet – it's about understanding how to lose weight happily, without feeling deprived or counting calories or cutting out entire food groups. You've heard the phrase "abs are made in the kitchen," right? That's why we are focusing on food as a means of weight loss whiles till keeping it enjoyable! The program includes 6 videos to learn the principles, 5 videos to live the principles in real life, 6 videos full of tips and strategies, and 16 recipe videos.
Want to see some results?
A positive mindset truly leads to positiver weight loss!!
At Beachbody, we're used to seeing incredible transformations. But when the first 2B Mindset weight-loss results came in, we couldn't have predicted these incredible results!
2B Mindset is a groundbreaking weight-loss program, co-created by Registered Dietitian Nutritionist Ilana Muhlstein, who originally devised the 2B Mindset principles as a way to help herself lose 100 pounds after years of yo-yo dieting.
What makes the 2B Mindset nutrition program so powerful is that it teaches you how to lose weight without counting calories or exercising. The 2B Mindset is not a diet — rather, it helps shift your perspective about food and your eating habits. Therefore, it is designed to help anyone — of any age — lose weight happily so they can keep it off for good.
But don't just take our word for it. Check out these 2B Mindset results below and hear how this nutrition program helped them finally win their weight-loss battles, and how it's changed their lives in amazing ways. 
Check Out These Men's and Women's 2B Mindset Results!
Lakmini B. lost 73 pounds 
"Not only am I 73 pounds lighter, but I feel like I can take on the world. I've never felt so vital or content. Because Ilana understands we are all different, I learned so much about myself on this program — not just which foods aid in weight loss — but about trusting myself, learning not to emotionally eat, recognizing signs of true hunger, and learning what it is to be satisfied. With the 2B Mindset, you'll actually enjoy weight loss," says Lakmini.
Imani B. lost 22.5 pounds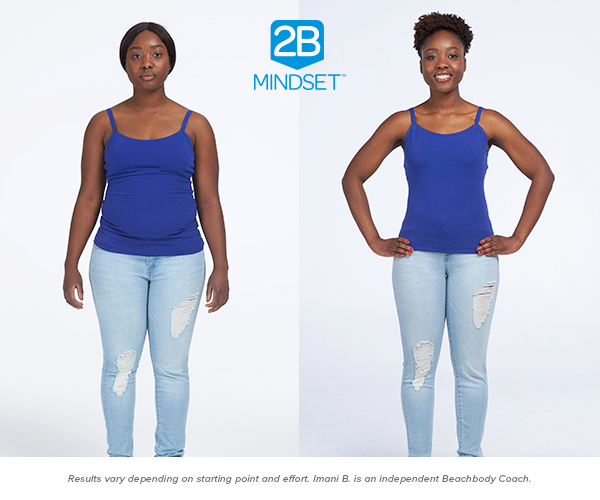 "After that first week, losing seven pounds, I knew I'd found the perfect program for me. Because I'm able to eat the same foods as everyone else, go back for seconds, and still lose weight. My weight loss is a lifestyle. It's an awareness rather than a goal. It's not a temporary fix. A 'diet' is temporary. A 'diet' means you get to your goal and you stop — which is the exact opposite of how weight loss works. A mindset lasts forever. I can do the 2B Mindset for life," says Imani.
Nathaniel G. lost 35 pounds 
"I've never lost 35 pounds before. This is the first time. I don't feel hungry. I don't feel starved. The things I craved before, I no longer do… I eat more in volume and variety than I did before. I don't consider the 2B Mindset a diet; I consider it a lifestyle change — and it's made the hugest change in my life. I feel fantastic and I want to maintain the way I feel. With the 2B Mindset, I have all the tools in my possession," says Nathaniel.
 Lillian P. lost 30 pounds 
Is constantly "on a diet"
LOVES food
Starts every Monday on a diet and quits by Wednesday
Loves late-night snacking
Rewards herself with food
Punishes herself with food
Loves eating out
Loves ordering take out
Hates to cook
Beats yourself up over eating
Doesn't want to exercise
Doesn't like to exercise
Loves to exercise but struggles with nutrition
Falls off the "diet" wagon every weekend
Travels often but doesn't know how to stay on track
Feels emotionally attached to food
Not sure of what to eat and how to eat it in a sensible way
Gets excitement from food
Feels overwhelmed with food choices
Turns to food when anxious or stressed
Feels isolated when trying to lose weight because you can't eat with your family or go to certain restaurants
THIS IS FOR YOU!
THE PROGRAM INCLUDES 41 VIDEOS, RANGING FROM 2 TO 30 MINUTES:
21 short videos that explain the main principles of the program
5 videos to help you overcome common challenges
15 super-simple and satisfying recipes
WHAT CAN YOU EXPECT IN THESE VIDEOS?
Ilana breaks down the core principles of the program and teaches you how to shift your mindset and implement research-based techniques that yield long-lasting results so you can ditch the diet and be happy while losing weight.
She walks you through every aisle of the grocery store to show you how to save money, read labels, plan for your week in an efficient way, and make the best decisions!
She also teaches you how to eat out, how to go to events, how to approach eating at a BBQ or party, how to order take out, how to conquer emotional eating, and more!
SUPERFOODS FOR A SUPER LIFE
An integral component of the 2B Mindset program is Shakeology, which is unlike any other shake because it's made from over 70 whole superfoods from around the world. It will replace your vitamin and probiotic, fill you up, give you natural energy (without caffeine), and tastes delish! Plus it helps your hair, skin, and nails! And it has nothing artificial! It's literally what gets me out of bed in the morning and keeps me going. And I really think it's why my baby hasn't had any tummy issues (and why her nails grow like weeds and need cut twice a week!).
What sets it apart is that there are NO GMOs, soy, artificial colors, sweeteners, flavors, or preservatives! It's seriously delicious and improves your energy, digestion, cravings, hair, nails, and skin. The ingredients are sourced from all over the world and the Shakeology creators regularly visit the farmers to test the soil and ensure the best farming practices are being followed.
LET'S TALK EXERCISE!
This program follows a "food first approach" – meaning that you'll focus on the food first, shed some weight, then feel empowered to exercise. I know from personal experience that it's HARD to exercise when you have 70+ lbs of extra weight and feel disconnected from your body.
With the 2B Mindset approach, you are NOT required to exercise. Exercise is considered "extra credit," so you can do it, but you are not required to do it until you feel ready. And believe me, you will you will WANT to exercise when you have that positive relationship with food and love your body! Luckily, you will have access to our "NETFLIX" of workouts with thousands of different workouts to choose from at any time.
MORE RESULTS
Check out these results (which were accomplished in 30-60 days with 2B Mindset)
PACKAGES!
The VALUE here is INCREDIBLE (considering Ilana charges $300 an hour in her private practice and you get access to ME and MY private groups and coaching)! Choose your path!
SAVE YOUR SPOT IN MY
NUTRITION FOCUSED Group NOW!
Ready to win the weight loss battle once and for all? The 2B Mindset will help you lose weight happily – without depriving yourself, and without cutting out food groups, counting calories, or even having to exercise until you're ready!
Let's lock arms and DO this! What do you say? Complete this form to save your spot and I'll be in touch!