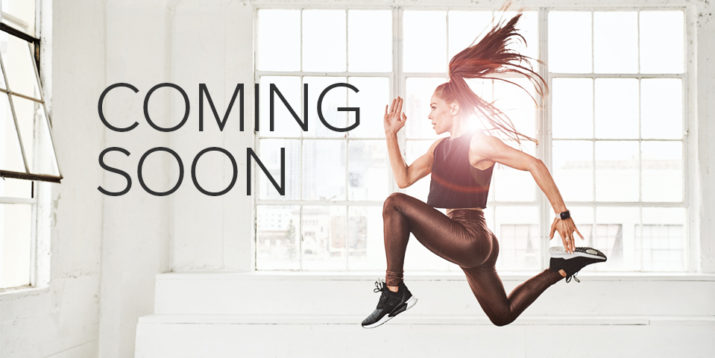 Your morning has the power to set the tone for your entire day.
For many people, it's also a chance to get in a little "me time."
So what better way to start your day strong AND do something good for yourself than with a workout — one that leaves you feeling accomplished, energized, and ready to take on whatever life throws at you?
That's where Super Trainer Jericho McMatthews comes in.
With her new program, Morning Meltdown 100, Jericho is going to help you unlock the very best version of yourself by helping you achieve an incredible goal: to complete 100 workouts!
Since I know this is coming, let's get one question out of the way:
"Do I have to do the Morning Meltdown 100 workouts in the morning?"
THE SHORT ANSWER: Nope. If you can squeeze it into your morning routine, then DO IT! But if it's just not going to happen for you, working out in the evening is better than not working out at all!
THE LONG ANSWER: Working out in the morning will help rev up your metabolism and help you burn fat throughout the rest of the day!
Plus, it will help you make healthier decisions throughout the rest of your day. Like that Oreo cookie you mindlessly picked up? Or the 3rd margarita you said yes to without thinking? Guilty! Those things become easier to make conscious decisions about when the FIRST decision you make every morning is a healthy one!
This is what Jericho said, "Waking up and sweating means starting your day with an endorphin rush, which instantly boosts your mood and sets a positive tone for the rest of your day. You'll feel happier, more accomplished, and less stressed, and you'll have extra energy to tackle the rest of your day as it unfolds."
What Is Morning Meltdown 100?
Morning Meltdown 100 is the newest workout program from Beachbody Super Trainer and CORE DE FORCE co-creator Jericho McMatthews.
Every morning, she'll lead you through a 20- to 30-minute workout that can help you rev up your metabolism, burn fat all day, and build your best body ever — all working toward helping you live your BEST LIFE.
There are 100 unique workouts in total, and yep, each one is designed to help you transform your body.
But more importantly, these 100 workouts give you 100 opportunities to work on yourself  — and reap the rewards of working out in the morning.
"Waking up and sweating means starting your day with an endorphin rush, which instantly boosts your mood and sets a positive tone for the rest of your day," Jericho explains. "You'll feel happier, more accomplished, and less stressed, and you'll have extra energy to tackle the rest of your day as it unfolds."
What Kinds of Workouts Are Included in Morning Meltdown 100?
Jericho created the program with tons of variety to help keep your body progressing.
"Expect to see a well-rounded variety of training modalities across the board, including HIIT, resistance, active recovery, mobility, and more," she says.
That variety is key to helping you transform your body in just 100 days.
Not only will it help you optimize your results and prevent training plateaus, but it will also help you avoid burnout and boredom.
Plus, Jericho designed the program with your busy life in mind. The workouts are short enough to easily fit into your day and the schedule is flexible, so you can stay on-track even when life gets in the way.
After all, it doesn't matter how you get to 100 workouts — you just have to get there.
Music and Morning Meltdown 100
Music plays a huge role in the program. For the first time in Beachbody history, each workout is set to a heart-pumping BPM (that's beats per minute) playlist mixed by a live DJ.
Why a live DJ?
"Working out with the DJ feels like a party! You'll have fun, live in the moment, and connect to the workout like never before," says Jericho.
Between the upbeat mixes and Jericho's energy, you'll have all the motivation you need to give every morning sweat session your all.
What Else Is Included in Morning Meltdown 100?
We don't want to give away too much, but let's just say Jericho has some surprises in store to help you stick with the challenge.
She hints, "We've created some new tools for this program that help you create personalized goals, track your progress, and unlock your potential. Stay tuned!"
Who Is Jericho McMatthews?
Jericho McMatthews is a Beachbody Super Trainer, creator of Morning Meltdown 100, and co-creator of the MMA-inspired fitness program CORE DE FORCE.
Jericho holds personal training certifications from the National Academy of Sports Medicine (NASM), the American Fitness Association of America (AFAA), and the American Council on Exercise (ACE) and has more than a decade of experience as a fitness authority and presenter at some of the fitness industry's most esteemed conferences.
Known for her motivating, tough-love teaching style and fiery personality, Jericho is so excited to help even more people make fitness part of their daily lives with Morning Meltdown 100!
---
Morning Meltdown 100
FAQ Section:
What is the Morning Meltdown 100 Meal Plan?
There haven't been any mentions of what the nutrition plan for the program will be like yet, but I'll be sure to update you as soon as I find out more!
---
What equipment is needed?
Based on what we can see in the Morning Meltdown 100 preview, my best guess would be:
3 Sets of Weights (Light/Medium/Heavy)
Fitness or Yoga Mat
But again, I'll keep you posted when I find out the specific required equipment!
---
What will the workouts be like?
The Morning Meltdown 100 workouts will include a little bit of everything:
HIIT
Resistance
Strength
Mobility
And more
Every workout is designed to keep your body continually progressing without hitting plateaus and feeling "stuck."
Plus, a live DJ on the set makes every workout feel like a party — because who wants to work out without music?! The DJ will up the tempo and slow it down to keep pace with the workouts and keep you moving.
---
When does the program release?
Morning Meltdown 100 is being released in 2 phases:
July 29th–Sept. 30th – Early Access: Starting July 1st the program will be on sale on TeamBeachbody.com, and will be available to stream on Beachbody On Demand starting July 29th.
Oct. 1st – Without Early Access: VIP Early Access begins July 29th, all other BOD subscribers will have access to the program starting October 1st.
---
How do you get VIP Early Access?
You DO NOT need to be a Beachbody Coach or anyone special to get Early Access to Morning Meltdown 100 — all you have to do is hop over to TeamBeachbody.com when the program goes on sale. When you purchase a Challenge Pack or standalone digital access the program will appear in your Beachbody On Demand library on July 29th! While everyone else enviously watches you and (im)patiently waits until October 😉
---
Does This Sound Like the Program for YOU?!
If you're all-in, then fill out the form below to join my first Morning Meltdown 100 Test Group and we'll all try this program TOGETHER and keep each other motivated through all 100 days.
Need a little more info before committing? Go ahead and fill out the form anyway and I'll keep you posted with more information about the program as it becomes available and get you started even sooner so you are ready when it launches!
---
Morning Meltdown 100 officially launches on Beachbody On Demand October 1, 2019. Offers go on sale in July, and VIP Early Access begins July 29, 2019.
If you want to be one of the firsts, fill out my FORM below: